Using BearExtender to extend the range of your network
On certain Macintosh computers, you can use BearExtender n3 to extend the range of your network. This allows you to share BearExtender n3's strong signal with other Wi-Fi users nearby, including other Macs, iPhones, iPads, iPod Touches, mobile devices, and even Windows computers.


Range Extender mode requirements:
A Macintosh notebook or desktop computer with a built-in AirPort card

Mac OS X 10.4 Tiger, Mac OS X 10.5 Leopard, Mac OS X 10.6 Snow Leopard or Mac OS X 10.7 Lion
Example scenario:

Your wireless router is located on the second floor. Using BearExtender n3, you are able to connect reliably on the first floor. Other computers requiring Wi-Fi on the first floor encounter low signal strength.

By setting up BearExtender n3 in Range Extender mode, you can turn your Mac with the BearExtender n3 connected into a Wi-Fi repeater. This will allow Wi-Fi users around you on the first floor to use BearExtender n3's stronger signal.


Step 1: Open System Preferences, select Sharing
Go to the Apple Menu and choose
System Preferences
.

Under
Internet & Network
click on
Sharing
.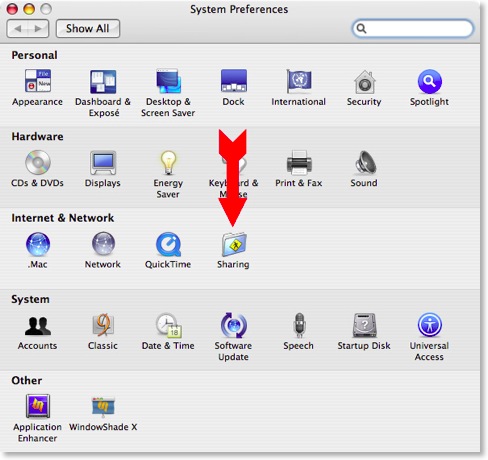 Step 2: Unlock
Click the lock icon and enter your password to make changes.

Step 3: Select Internet Sharing
Select
Internet Sharing
from the left sidebar.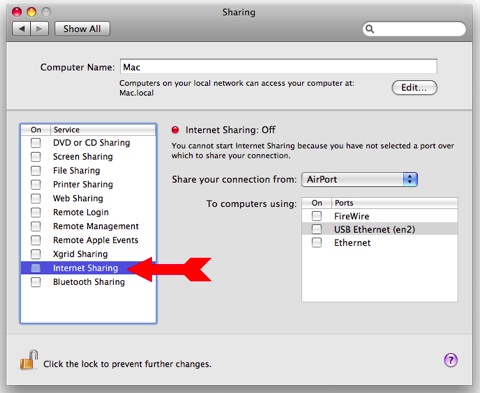 Step 4: Drop down menu
From the drop down menu next to
Share your connection from:
select
USB Ethernet (en#)
or
802.11n WLAN
.

Lion users
:
Select 802.11n WLAN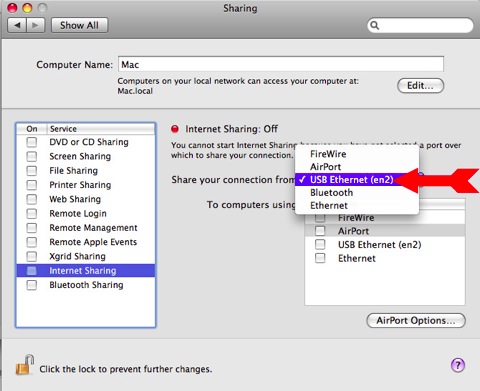 Step 5: Select Airport
Under
To computers using:
place a check mark next to AirPort.

Lion users
: Place a check mark next to "Wi-Fi" instead.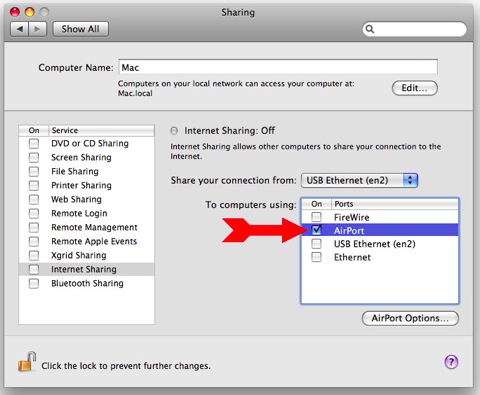 Step 6: AirPort Options
Click
AirPort Options
to set a wireless network name and password that other Wi-Fi users must use to connect.

Lion users
:
Click "Wi-Fi Options" instead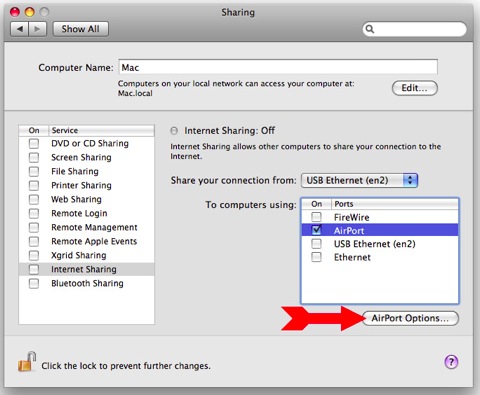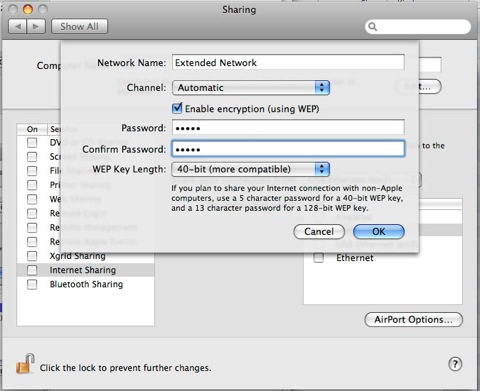 Step 7: Check Internet Sharing
Finally, place a check mark next to
Internet Sharing
. This will start sharing Internet from BearExtender's signal, and re-broadcast it over your Airport card to nearby Wi-Fi users.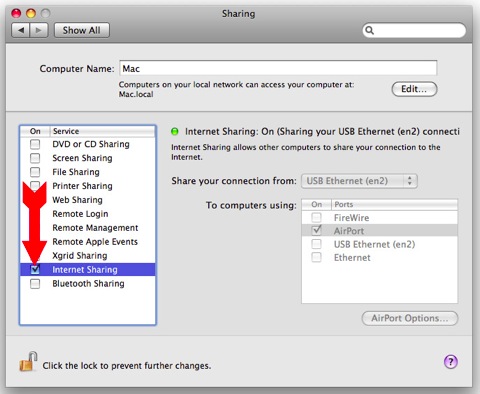 Congratulations
Other Wi-Fi devices should now be able to see and join the network name you created in Step 6.
iPhone, iPad, and iPod Touch are registered trademarks of Apple Inc.